NEW SHERBORNE RUNNING CLUB TOPS, VESTS AND JACKETS - available to order online 

NEW MARCH WEDNESDAY EVENINGS BROGA, POWER YOGA & FLEXIBILITY COURSE  
The March course will cover 4 weeks and the dates are Wednesday 28 February, 7, 14 and 21 March, all at 6.30pm to 7.30pm.  This course will be the Broga "back" workout, it is designed to improve spinal flexion, extension and rotation while also working your core for the whole hour.  This is one of our most challenging workouts  - just ask one of our members Rachel Goddfellow who ran 26 marathons in 26 days in 2016 who will tell you this is the "hardest" workout she has ever done. We work on realigning the thorasic spine and building strength in the correct position. We also teach the difference between using the lumbar spine for support versus the abdominals. Places are limited to 20 and the course is already FULLY BOOKED. Please contact us if you are interested in our next course in April. The cost of this course is £20 payable in advance. Contact us for more information.
FRIDAY  EVENING OUTDOOR BOOTCAMP BLITZ 
Even in the depths of winter we stay outside with Simon coaching this HIIT type training session which includes tyre flips, battle ropes, tyre drags, farmer's walks, kettlebells, boxing and grid sprints. These sessions are suited to all abilities for both men and women and are intended to be different to our normal sessions based on the type of equipment we use, but also by working in pairs we really encourage each other to train hard and have fun doing it.  We like to think we create a "unique" environment to train in. The sessions are normally on the alternate weekends to our Saturday morning blitz to compliment our member's training program by giving as much variety as possible. The remaining dates for the quarter ending 31 March 2018 are now all fully booked with the exception of 16 March which  has only 1 space left. There is no session on 30 March as this is Good Friday. All are at at 5.30pm to 6.30pm. The cost of each session is £7 payable in advance.  Contact us for more information.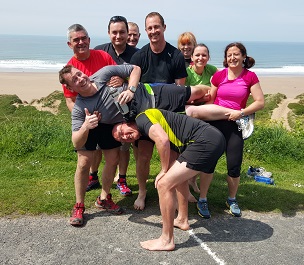 EXMOOR RESIDENTIAL BOOTCAMP
There was a Sunday to Wednesday residential bootcamp which took place on the 15 - 18 October 2017 on Exmoor at the Heddons Gate Hotel  - contact us for more information. We are planning our next next residential bootcamp in the spring 2018 - if this is of interest do get in touch to discuss further.
*NEW CLASS FOR 2018 WITH ZOE* SATURDAY MORNING CIRCUITS CLASS
This is a new class targeting cardio vascular fitness, muscular endurance and fat-burning so you will burn loads of calories and have lots of fun at the same time! The new classes are available on the alternate weekends to our existing Saturday morning class (see below). Classes are limited to 12 spaces, bookings and payments must be made in advance. The remaining session for the quarter ended 31 March 2018 is the 3 March 2018.  All the sessions are at 09:00 to 10:00. The class will follow a circuits format where you will work on a series of exercises for a set period of time, be prepared to work hard. The cost of each session is £5 payable in advance. Places are limited to 12. Get booked in via our Facebook page before all the places go.  Contact us for more information. Zoe can be contacted specifically on 07808 192174 if you have any queries.
SATURDAY MORNING SMALL GROUP STRENGTH & HIGH INTENSITY FAT BURNING BLITZ 
The new course is fortnightly on Saturday mornings for the quarter to 31 March 2018 - the remaining dates are 24 February, 10 and 24 March. All the sessions were FULLY BOOKED but now someone has dropped out and there is one space for the 24 March. The sessions are at 08:30 to 10:00. Each session is broken into 2 parts, part A for strength includes EMOMs for 3 reps of 10 sets and part B for metabolic conditioning/fatburning which includes a metabolic circuit plus a HIIT session (2 different workouts).  This is small group personal training so we do body fat % measurements at the start of the quarter and a fitness test at the end of the quarter to measure your progress. The cost of each session is £10 payable in advance. Places are limited to 10. Email us or message us via our Facebook page if you want to be added to the waiting list or take the last place for 24 March.  Contact us for more information.
Refunds Policy
As we are a small business, we regret that we are not able to offer any refunds on sessions paid for in advance which you are unfortunately unable to attend.
Staff training and annual leave - the studio will be closed for the following dates (inclusive):
Friday 30 March - Sunday 8 April 2018
Monday 7 May 2018 - Bank Holiday
Monday 28 May 2018 - Bank Holiday
Saturday 30 June 2018 - Sunday 8 July
Monday 27 August 2018 - Bank Holiday
Monday 10 September  - Sunday 23 September 2018
12 noon Friday 21 December 2018 - Tuesday 1 January 2019