NEW SHERBORNE RUNNING CLUB TOPS - available to order online 

NEW JUNE WEDNESDAY EVENINGS BROGA, STRETCHING & FLEXIBILITY COURSE  
The June course will cover 4 weeks and the dates are Wednesday 31 May and 7, 14 and 21 June at 6.30pm to 7.30pm.  This course will be the Broga "chest" workout .  This is an upper body workout which will also improve your core strength, balance and flexibility ALL at the same time. It is a dynamic and fast paced class. Places are limited to 15 so book now to avoid missing out - 7 places have gone already.  The cost of this course is £20 payable in advance for all 4 sessions in this month. Contact us for more information.
OUR JUNE FRIDAY EVENING OUTDOOR BOOTCAMP BLITZ 
Summer is here so we are outside with Simon coaching this HIIT type training session which includes tyres, sledge hammers, agility ladders, battle ropes, kettlebells and grid sprints. These sessions are intended to be different to our normal sessions based on the type of equipment we use, but also by working in pairs to really encourage each other to train hard but have fun doing it. The sessions are on the alternate weekends to our Saturday morning blitz to compliment our member's training program by giving as much variety as possible. Sessions are on Friday 9 and 23 June at 5.30 to 6.30pm. Places are limited to 10 and there are only 8 places left for Friday 9. The cost of each session is £7 payable in advance. Contact us for more information.
COASTAL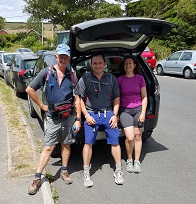 YOMP
Due to personal reasons, Simon regrets that the coastal yomps are suspended until further notice and will be reviewed in 2017 Contact us for more information. There will be a weekend bootcamp (three days of training Fri - Sun) on Exmoor in October - contact us for more information. However, we are pleased to say this is already FULLY BOOKED.
SATURDAY MORNING SMALL GROUP STRENGTH & HIGH INTENSITY FAT BURNING BLITZ 
The new course is fortnightly on Saturday mornings for the quarter to 30 June 2017 - there are 2 more sessions in this quarter and all are at 08.30am to 10.00am on Saturday 3 and 17 June. Each session is broken into 2 parts, part A for strength includes EMOMs for German Volume Training and part B for metabolic conditioning/fatburning which includes Interval Ladders and AMRAP(s) circuits.  This is small group personal training so we do body fat % measurements at the start of the quarter and a fitness test at the end of the quarter to measure your progress. The cost of each session is £10 payable in advance. Contact us for more information.
Refunds Policy
As we are a small business, we regret that we are not able to offer any refunds on sessions paid for in advance which you are unfortunately unable to attend.
Staff training and annual leave - the studio will be closed for the following dates (inclusive):
Monday 29 May 2017 (bank holiday)
Saturday 1 July - Sunday 9 July 2017
Monday 28 August 2017 (bank holiday)
Saturday 16 September - Sunday 24 September 2017
Sunday 15 October to Wednesday 18 October when we are away on our Residential Exmoor Bootcamp
12noon Friday 22 December  - Monday 1 January 2018