NEW SHERBORNE RUNNING CLUB TOPS, VESTS AND JACKETS - available to order online 

NEW DECEMBER WEDNESDAY EVENINGS BROGA, POWER YOGA & FLEXIBILITY COURSE  
The December course will cover 4 weeks and the dates are Wednesday 29 November and 6, 13 and 20 December, all at 6.30pm to 7.30pm.  This course will be the Broga "sizzle" class, which is often seen as the beginners class, and is actually a fast paced dynamic class taking bits from all the other Broga classes to get stronger and more flexible at the same time.  We do our "stretch test" in week 1 to see if you have improved your flexibility since the last "sizzle course", and then if not, we ask why not?  Places are limited to 15, 13 have gone to those paying by STO, so there are ONLY 2 places available. Get booked in now to avoid disappointment. The cost of this course is £20 payable in advance. Contact us for more information.
OUR  EVENING OUTDOOR BOOTCAMP BLITZ 
Winter is just about here, even though it is still really mild,  but we stay outside with Simon coaching this HIIT type training session which includes tyre flips, battle ropes, tyre drags, farmer's walks, kettlebells, boxing and grid sprints carrying tyres just like those "strong man" competitions. These sessions are intended to be different to our normal sessions based on the type of equipment we use, but also by working in pairs we really encourage each other to train hard and have fun doing it.  We like to think we create a "unique" environment to train in. The sessions are normally on the alternate weekends to our Saturday morning blitz to compliment our member's training program by giving as much variety as possible. There are three remaining sessions in the quarter ending 31 December 2017.  The next session is Friday 24 November and is fully booked, but  the bootcamps on 8 and 22 December each have 2 places left. All are at at 5.30pm to 6.30pm, with the exception of 22 December which will be a special Christmas bootcamp with the time to be confirmed but it is likely to be 1pm (suggestions for preferred times are welcome as we hope to go for a drink and informal social afterwards). Places are limited to 10 so get booked in now. The cost of each session is £7 payable in advance. Contact us for more information.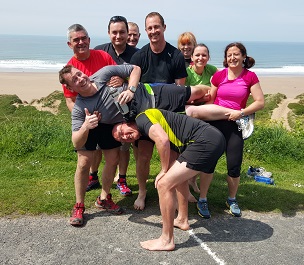 EXMOOR RESIDENTIAL BOOTCAMP
There was a Sunday to Wednesday residential bootcamp which took place on the 15 - 18 October 2017 on Exmoor at the Heddons Gate Hotel  - contact us for more information. We are planning our next next residential bootcamp in January and/or spring 2018 - if this is of interest do get in touch to discuss further.
SATURDAY MORNING SMALL GROUP STRENGTH & HIGH INTENSITY FAT BURNING BLITZ 
The new course is fortnightly on Saturday mornings for the quarter to 31 December 2017 - all the sessions are now FULLY BOOKED except for Saturday 16 December which has 1 space available . Each session is broken into 2 parts, part A for strength includes EMOMs for 3 reps of 10 sets and part B for metabolic conditioning/fatburning which includes a metabolic circuit plus a HIIT session (2 different workouts).  This is small group personal training so we do body fat % measurements at the start of the quarter and a fitness test at the end of the quarter to measure your progress. The cost of each session is £10 payable in advance. Places are limited to 10 but feel free to add your name to our waiting list in case someone drops out.  Contact us for more information.
Refunds Policy
As we are a small business, we regret that we are not able to offer any refunds on sessions paid for in advance which you are unfortunately unable to attend.
Staff training and annual leave - the studio will be closed for the following dates (inclusive):
12noon Friday 22 December  - Monday 1 January 2018 inclusive