Team Profiles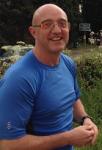 I qualified and trained with Cannons Health and Fitness which then became Nuffield Health and Fitness. My experience has shown me that the larger gym chains use this industry as a conveyor belt to churn out average personal trainers to be sales people, and solely generate money, rather than put the experiences of people first. I cannot work like that. I very quickly went self-employed and have been a freelance personal trainer for over 10 years. I set up my own small 1:1 personal training studio in Yeovil and this quickly showed the benefits of a bespoke training facility.  It also gave me the confidence to pursue my vision of a specialist personal and group training facility like no other.
Hi I'm Martin. I am passionate about health & fitness & helping people. I live in Sherborne with my wife and our 4 children. I have been involved in the music & education industry for 20+ years as a professional musician and educator. My passion for sports & fitness has always been as strong as my passion for music. I'm also volunteer club secretary and coach at Sherborne Town Youth FC. 
Fitness & Wellbeing has always been an important factor in my life. I love my own training which is a combination of weight training, circuits/bootcamp style strength & endurance along with running. I like to keep it varied and fun!