Broga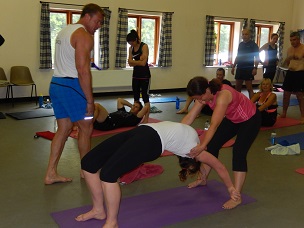 Broga® is the brainchild of Matt Miller, a larger than life former American football star and yoga lover.
Broga® is a real challenge and suited to those that want to build strength, stamina and flexibility and is for both males and females of any age.  We run monthly courses with one session a week on a Wednesday evening at 6:30pm. Each month we target a different body part to improve flexibility whilst giving a whole body workout.
A unique benefit of this session is that we test the range of movement of that body part e.g. hamstrings at the beginning of the course and then again at the end of the course to see how much you have improved your flexibility. 
Broga® is a trademark signature yoga practice designed for those who want to improve their flexibility but at the same time build their strength. It is a strong, intense and physically challenging workout with accessible postures that challenge the body in new ways, increase performance and capability in sport and reduces the possibility of injury or painful impingement.
To find out more about Broga® and Matt Miller visit http://www.broga.uk.com.