Coastal "Yomps"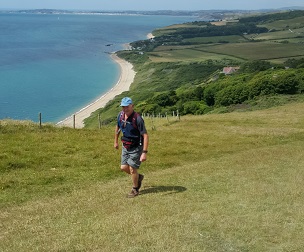 A "yomp" is a word used by the Royal Marines, meaning to get from A to B as quickly as possible and still be able to do your job at the end of it.
We are very fortunate to be based where we are so that we can get down to the world famous Jurassic Coast in Dorset and make use of the SW Coast Path in a day. We yomp one Saturday every month, usually covering a distance of 10 to 12 miles of extremely "undulating" terrain.  The views from the coastal path in Dorset are spectacular but also challenging in terms of the hills we must go up and down!
We all take the actual yomp very seriously and try and achieve a really good personal time, but then the reward of lunch and a drink in a coastal pub is always even more deserved.
If you would like to take part in one of our yomps or just have some questions, please get in touch.