Bootcamps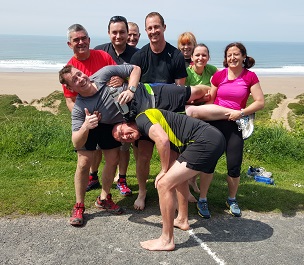 There are bootcamps everywhere, but are they all safe and effective? As with everything we do, we tailor our sessions to our clients and run courses with a start and finish so you can see if you have achieved the results you want. Everything is measureable.
But the sessions are motivational, fun and enjoyable and we try to do things you would not do in a normal gym. The sessions are designed to improve your fitness, strength, burn fat, improve confidence and meet new people.  We really believe that we are a team and so training together encourages a culture of achievement as well as fun.
We offer:
1 hour Friday evening sessions in Sherborne, Dorset - please see the News and Events page for full details of our Bootcamp programme right up to the end of the year.
1 day bootcamps in Dorset - we are currently making plans for 2018 for these as special events. Get in contact if you want more information.
Residential courses on Exmoor - in 2016 we went to Voley Farm and in 2017 we went to the Heddons Gate Hotel in the beautiful Heddon Valley, North Devon. Get in contact if you want more information.
At the heart of our training is that YOU set your goals, YOU then review your goals on a set timescale and YOU create your action plan. We provide you with all the support you need to keep you moving forward.